Moms
Alpha Mom
Alpha Mom: "We try to help women embrace motherhood with confidence."
Catholic Icing
"The icing on your Catholic cake! - Info & Crafts for Kids"
Carrots for Michaelmas
Carrots for Michaelmas: "My little spot of the web to discuss faith, motherhood, literature..."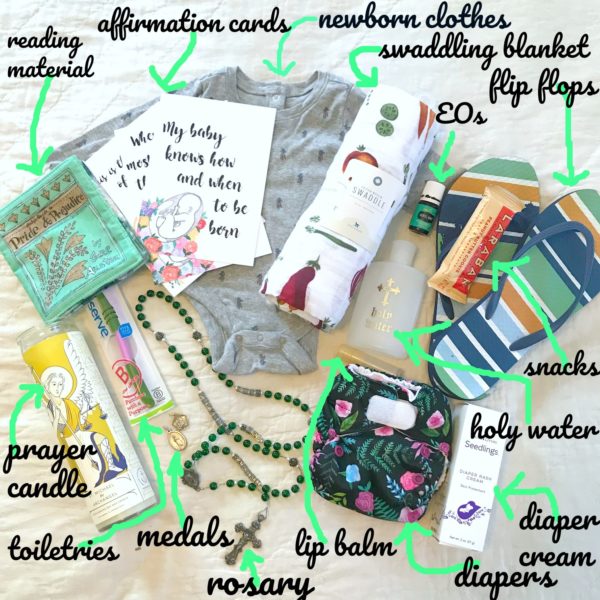 I am 38 weeks tomorrow. My baby girl continues to stubbornly stay breech and transverse in there so this week is chock full of chiropractor visits, more handstands at the pool, acupuncture, moxibustion, and if all that fails (as it has been) an external version at the hospital on Friday.
I am feeling very not in control of much right now. But I can pack my hospital bag (and I plan to take it with me on Friday just in case there's complications with the version and we need to switch gears for a c-section).
This post contains affiliate links.
This will be [...]
Mon, Jul 16, 2018
Source: Carrots for Michaelmas
Catholic Mom
Catholic Mom: "We celebrate all things Faith, Family, and Fun from a Catholic perspective."
Dads
Catholic Dads
Catholic Dads: "This is a site to help build community among Catholic Dads."
Doctor's Notes
Catholic Pediatrics
Catholic Pediatrics "We support a faith-centered approach toward pediatric care. We believe it is futile to heal the body and not the soul."
Search for a Catholic Pediatrician
Dr. Sears
How to Set Boundaries and Help Your Kids Have a Healthy Balance with Technology
Do you struggle with modeling or helping your kids have a healthy balance with technology use? A study published in June 2018 by researchers at the University of Texas asked subjects to take a series of tests that required full cognitive attention. The researchers found that people who had their smartphones nearby — even though they were on silent — performed significantly worse than those whose phones were in another room. In other words, if your phone is nearby, you can never really stop thinking about it. [...]
Wed, Jul 18, 2018
Source: Ask Dr. Sears
How to Get Baby Interested in Solid Foods
Question: Is it okay for 11-month-old not be interested in solid foods at the table? She is hitting all her milestones, seems completely normal and chubby but still wants to nurse and doesn't seem interested in any solid foods at the table.
Answer: Two of our daughters (so maybe it is more of a girl thing?) were not at all interested in table food at this age. One of them was 15 months old before she caught on that table food was for eating. She loved the social setting of meal time and enjoyed [...]
Mon, Jul 16, 2018
Source: Ask Dr. Sears
The Natural Benefits of Breastfeeding and Breastmilk
Mothers and babies are the top national treasures in every country. And breastmilk is every country's top natural resource. Science agrees. The incidence of nearly every serious disease you don't want your child to get is lower the longer a baby is breastfed. From head-to-toe, a breastfed baby enjoys these health benefits: smarter brains, clearer vision, better dental alignment, healthier hearts, good gut health, fewer cancers, a lower risk of SIDS, and much more. And, besides being healthier for babies, breastfeeding is healthier for mothers: faster postpartum recovery and pregnancy weight loss; promotes mother-infant [...]
Fri, Jul 13, 2018
Source: Ask Dr. Sears
New Evangelizers
New Evangelizers
For the husband is the head of the wife, even
As Christ is the head of the church:
And he is the savior of the body.
Therefore as the church is subject
Unto Christ, so let wives be
To their own husbands
in everything.
(Ephesians 5: 23-24, KJV)
During this time of Christ's crucifixion, resurrection and ascension we focus on what Jesus did during His short time on earth. He was sent as a symbol of the new covenant God wanted with all his people. As married couples, we also are symbols of God's new covenant. Just like Jesus and the [...]
Tue, Jul 17, 2018
Source: New Evangelizers
Brandon Vogt
Brandon Vogt - blogging, writing, speaking
A couple exciting items about my new book, Why I Am Catholic (And You Should Be Too).
First, the book recently earned a 1st Place Award from the Catholic Press Association for being this year's best "Popular Presentation of the Catholic Faith." So exciting!
Second, I was recently interviewed about the book by Angelus News, the newspaper for the Archdiocese of Los Angeles. The reporter sent me several questions via email but, due to space, was only able to quote a few lines for the final piece.
I asked if I could just share the full interview here on [...]
Wed, Jul 18, 2018
Source: Brandon Vogt
The Catholics Next Door
"Living Out Our Catholic Faith in Today's World"
Interesting Independent Articles
Make Prayer a Practice
As enthusiastically as we accept a close friend's invitation to a backyard picnic, we need to model to our children to accept God's invitation to share yourself with him in prayer. God is with you always and everywhere and you can most certainly model and pray whenever and wherever you want! If you pray daily together, you will build the practice of daily prayer for yourself and set that example for your child.
How do you build this practice? We build practices simply by doing something over and over again...until they become second nature. (The regularity is more important than the length!) Prayer is not a chore to complete, but rather a gift. Remind yourself that this is actually good for you, like a plant that needs sunshine and water, you need spiritual enrichment. Designating a special time and place is helpful. Make a sacred space in your home, a little oasis. Have your children help to decorate it by including their own pictures and notes to God, a Bible, a flower in a vase, a candle, a crucifix, your rosary, etc. Remove the pressure of trying to "impress" God with the "right words". You don't have to prove yourself to God. Just be present...let God do the work! Make sure every special occasion includes family prayer...birthdays, family meals, the loss of a pet, the birth of a baby, an illness, both joyful and sad. Say grace before meals...even in restaurants.
Children learn from their parents. One of the best things we can teach is the practice of daily prayer. The family is the first and most important "teacher"...where children not only learn to pray, but to worship God, to love, to forgive, and to work together.
-- Mrs. Sandy Robertson Principal Mother Teresa Catholic Academy The Diocese of Joliet Crete, Illinois 
 Jamie Bruesehoff
Blogger, 'I Am Totally *That* Mom'
Posted: 09/14/2013 10:03 am
You are doing something really, really important. I know it's not easy. I see you with your arms overflowing, and I know you came to church already tired. Parenting is tiring. Really tiring.
I watch you bounce and sway trying to keep the baby quiet, juggling the infant car seat and the diaper bag as you find a seat. I see you wince as your child cries. I see you anxiously pull things out of your bag of tricks to try to quiet them.
And I see you with your toddler and your preschooler. I watch you cringe when your little girl asks an innocent question in a voice that might not be an inside voice let alone a church whisper. I hear the exasperation in your voice as you beg your child to just sit, to be quiet as you feel everyone's eyes on you. Not everyone is looking, but I know it feels that way...(read more)
  Christie Elkins  Blogger, 'Letters from the Nest'
It is there, and it creeps up like a silent killer. Maybe it is the wet underwear that you found floating in the hallway bathroom. Or the cat food that has been flung out on the floor like tiny marbles waiting to trip up a passerby. Or the loud thumping and yelling and tantruming as if we live in some sort of primal age where roaring and beating your chest were the only way to get other's attention.
And all of that madness and anger? It wasn't the kids. It was me.  The mother. The one who left a pair of Superman undies in a bathroom we rarely use for days, fed the cat without my glasses after someone else forgot, and the loud, obnoxious, downright scary human being I can be when I have just had more than I can handle...(read more)
We are always working to add more content to this area, please check back often.