Moms
Alpha Mom
Alpha Mom: "We try to help women embrace motherhood with confidence."
Hi,
Thanks for all the great advice on sleep & room sharing.
I would love for my boys to share a room, but I have one concern. My big (turns 6 this fall) will be getting up at 7:15 each morning to go to kindergarten. My little (16 months) usually sleeps until 9:30 am. Any tips for preserving the late morning sleep of one kiddo while getting another up and out the door?
More details: They regularly share a room when we travel or have company. The big will wake up on his own (around 8:30) and [...]
Fri, Aug 10, 2018
Source: Alpha Mom
My parents set an example for me and my sister by donating their time, helping various organizations and volunteering for events in our community, dragging my sister and me along when possible. I remember my dad helping a neighbor to shovel their snowy driveway and my mom bringing a casserole to a grieving friend. We didn't have tons of extra money to give, but we were taught to give a hand.
It's a trait I want to pass on to my son – that feeling that one person can make a difference in someone else's life. That no act of kindness [...]
Wed, Aug 08, 2018
Source: Alpha Mom
Catholic Icing
"The icing on your Catholic cake! - Info & Crafts for Kids"
Carrots for Michaelmas
Carrots for Michaelmas: "My little spot of the web to discuss faith, motherhood, literature..."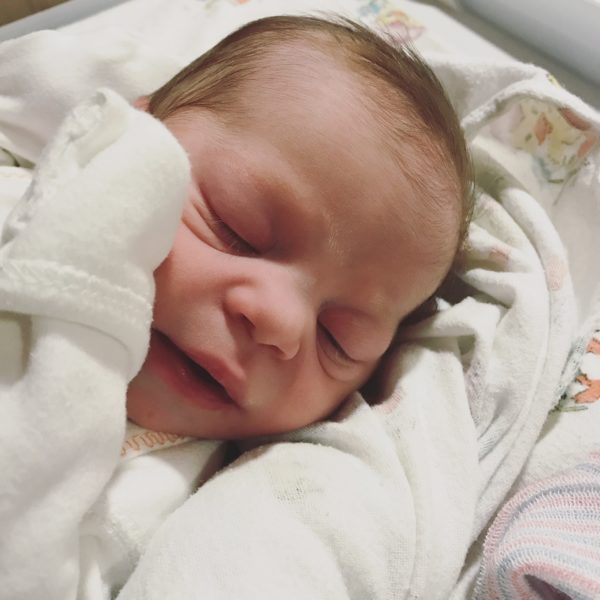 This is Part II. You definitely want to start with Part I to hear about how I was sent home from the hospital and told I was "not in labor."
Back at home I laid on the couch with one leg over a couch pillow while Daniel dozed on a yoga mat on the floor next to me, holding me hand through contractions. The contractions were becoming unbearable and I started to feel overheated during them and then shaking afterwards. I started vomiting from the pain.
I was obviously in transition. But because I was in transition, I was too out [...]
Tue, Aug 07, 2018
Source: Carrots for Michaelmas
Catholic Mom
Catholic Mom: "We celebrate all things Faith, Family, and Fun from a Catholic perspective."
Dads
Catholic Dads
Catholic Dads: "This is a site to help build community among Catholic Dads."
Doctor's Notes
Catholic Pediatrics
Catholic Pediatrics "We support a faith-centered approach toward pediatric care. We believe it is futile to heal the body and not the soul."
Search for a Catholic Pediatrician
Dr. Sears
Supplements of Vitamin D During Pregnancy May Lead to Healthier Babies Vitamin D During Pregnancy and Baby's Growth
A lead article in the July issue of Journal of the American Medical Association (JAMA) Pediatrics analyzed the results of 24 studies involving over 5,000 pregnant mothers. The study concluded that those who took supplements of vitamin D during pregnancy (in the range of 1,000 -2,000 IU per day) were associated with a reduced risk of babies growing too slowly. This is also called "small for gestational age babies." The babies even improved growth during the first year. The authors recommended that [...]
Tue, Aug 07, 2018
Source: Ask Dr. Sears
New Evangelizers
New Evangelizers
Søren Kierkegaard, the famous 19th century Danish philosopher, describes faith in God as a "leap", a decision to believe in God made not on the basis of evidence, but as an act of the will, a sort of metaphysical jump into the void, not knowing where you will land. But is Kierkegaard right? Certainly there is truth in the notion that faith in God is something that causes someone to act, possibly even radically, due to something profound and powerful operating within them. But it is not quite correct to suggest that faith is a leap made without evidence, because [...]
Wed, Aug 08, 2018
Source: New Evangelizers
Brandon Vogt
Brandon Vogt - blogging, writing, speaking
The Catholics Next Door
"Living Out Our Catholic Faith in Today's World"
Interesting Independent Articles
Make Prayer a Practice
As enthusiastically as we accept a close friend's invitation to a backyard picnic, we need to model to our children to accept God's invitation to share yourself with him in prayer. God is with you always and everywhere and you can most certainly model and pray whenever and wherever you want! If you pray daily together, you will build the practice of daily prayer for yourself and set that example for your child.
How do you build this practice? We build practices simply by doing something over and over again...until they become second nature. (The regularity is more important than the length!) Prayer is not a chore to complete, but rather a gift. Remind yourself that this is actually good for you, like a plant that needs sunshine and water, you need spiritual enrichment. Designating a special time and place is helpful. Make a sacred space in your home, a little oasis. Have your children help to decorate it by including their own pictures and notes to God, a Bible, a flower in a vase, a candle, a crucifix, your rosary, etc. Remove the pressure of trying to "impress" God with the "right words". You don't have to prove yourself to God. Just be present...let God do the work! Make sure every special occasion includes family prayer...birthdays, family meals, the loss of a pet, the birth of a baby, an illness, both joyful and sad. Say grace before meals...even in restaurants.
Children learn from their parents. One of the best things we can teach is the practice of daily prayer. The family is the first and most important "teacher"...where children not only learn to pray, but to worship God, to love, to forgive, and to work together.
-- Mrs. Sandy Robertson Principal Mother Teresa Catholic Academy The Diocese of Joliet Crete, Illinois 
 Jamie Bruesehoff
Blogger, 'I Am Totally *That* Mom'
Posted: 09/14/2013 10:03 am
You are doing something really, really important. I know it's not easy. I see you with your arms overflowing, and I know you came to church already tired. Parenting is tiring. Really tiring.
I watch you bounce and sway trying to keep the baby quiet, juggling the infant car seat and the diaper bag as you find a seat. I see you wince as your child cries. I see you anxiously pull things out of your bag of tricks to try to quiet them.
And I see you with your toddler and your preschooler. I watch you cringe when your little girl asks an innocent question in a voice that might not be an inside voice let alone a church whisper. I hear the exasperation in your voice as you beg your child to just sit, to be quiet as you feel everyone's eyes on you. Not everyone is looking, but I know it feels that way...(read more)
  Christie Elkins  Blogger, 'Letters from the Nest'
It is there, and it creeps up like a silent killer. Maybe it is the wet underwear that you found floating in the hallway bathroom. Or the cat food that has been flung out on the floor like tiny marbles waiting to trip up a passerby. Or the loud thumping and yelling and tantruming as if we live in some sort of primal age where roaring and beating your chest were the only way to get other's attention.
And all of that madness and anger? It wasn't the kids. It was me.  The mother. The one who left a pair of Superman undies in a bathroom we rarely use for days, fed the cat without my glasses after someone else forgot, and the loud, obnoxious, downright scary human being I can be when I have just had more than I can handle...(read more)
We are always working to add more content to this area, please check back often.